Coloring Nights at the Library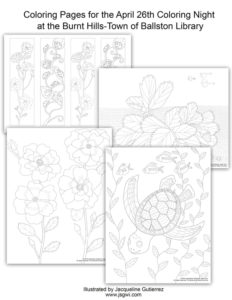 I recently started a Coloring Night group at the Burnt Hills branch of the Town of Ballston Community Library. The Coloring Nights are a great way to relax, unwind, and de-stress.  I'm happy to say that the March Coloring Night went quite well. The library supplied quite a variety of markers, colored pencils, and gel pens to choose from. I illustrated a few coloring pages to choose from, and the library printed them on card stock. In addition to the joy of coloring, I shared some art tips and played classical music in the background.
This month in addition to coloring pages, we're going to be coloring and making bookmarks. There is still time to sign up for the April Coloring Night session, which will be on on Thursday, April 26th, from 6:00 – 7:30 PM. Stop by to color a bookmark or the other three coloring images that I illustrated for the group! I'll show you how to make tassels for the bookmarks and will bring along classical music to listen to as we color.
Click on the link on the library's calendar to sign up: http://tbcl.evanced.info/signup/calendar